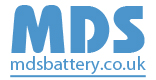 MDS Battery sells a wide range of replacement and rechargeable batteries, including car batteries, motorbike chargers, laptop batteries, industrial batteries, USP batteries, household batteries, and much more. They have over 25 years of experience, and an exceptional reputation to back it up, boasting a five-star rating on independent review platform Trusted Shops, which is why we trust them at Parcel Delivery.
If you have purchased a product from MDS Battery and you need to return it for any reason, no matter whether it is faulty or you have simply ordered the wrong battery, there are a number of ways you can do so. Below, we reveal how long you have to return your parcel, MDS Battery's chosen couriers, and much more.
If you want to return a parcel to MDS Battery, you will have 28 days to do so. If your parcel is returned after 28 days have passed, they will only be able to replace or repair the product you have sent back.
MDS Battery will only accept a returned item if it is in the same condition it was in when it arrived. This means you need to send it back with the original packaging, accessories, and manuals. If the return is not complete, the company will not accept it.
MDS Battery is committed to processing returns within five working days. They recommend that you get a proof of postage when you return your item. If you fail to do this, and your package gets lost in the post, you won't be covered.
Return Your MDS Battery Parcel
For MDS Battery parcel returns, you need to get in touch with the company to get a Return Authorisation Number. You can do this by dialling 0800 310 2100 or sending an email using the online contact form on their website. Once you have been provided with a Return Authorisation Number by the MDS Battery returns team, you need to mark it on the outside of the package, in accordance with the MDS Battery returns policy.
You also need to print out a MDS Battery returns form, which you can access via the 'delivery' page on the company's website. The MDS Battery parcel returns form requests the following information from you…
Order details:
 Your name
 Your address
 Your postcode
 Your phone number
 Invoice number
 Date
 Your eBay ID or Amazon reference
 Your email address
The item:
 Part number
 Description of fault
 Serial number (if applicable)
What you would like the retailer to do:
 State whether you want a refund, replacement, or something else.
Fill in this form and include it with any item you are returning, in line with the MDS Battery returns policy. This will make sure your refund or replacement is processed quickly by the MDS Battery returns team. Include any accessories or manuals that have come with the item, and then address your parcel to the following address: MDS Battery Ltd, Returns Dept., 1 Riverwalk Business Park, Jeffreys Road, Enfield, EN3 7QN, as stated in the MDS Battery returns policy.
You then need to measure your parcel and pop the details into our quote form in order to improve the process of your MDS parcel returns. Don't simply guess the weight and dimensions, as you could end up with extra charges later down the line.
Once you have done this, we will then present you with the most efficient and competitively priced options from the best couriers across the UK.
MDS Battery Couriers
MDS Battery uses a number of courier services to send their products, namely Royal Mail and UPS. The company tends to send high-value or large items via a UPS courier delivery or tracked postal service, whereas low-value or small parcels are sent using the Royal Mail First Class Post service.
There are some limitations and surcharges you need to know about. For example, if you purchase lithium batteries, your parcel will not be sent via Royal Mail, as they refuse to ship these types of batteries. So, please do not attempt to return lithium batteries using Royal Mail either; they are prohibited and feature on their Dangerous Goods Shipping list.
MDS Battery is committed to sending all packages free of charge, yet there are some areas whereby a Remote Area Surcharge of £20 is added if the parcel is sent via UPS. Most of the areas listed are in the Scottish Highlands; however, there are some other inaccessible or remote parts of the UK as well.
Surcharge areas for UPS deliveries include: ZE, TR21-TR25, PH49-PH50, PH30-PH44, PH17-PH26, PA80-PA88, PA60-PA78, PA41-PA49, PA20-PA38, A15-LA23, KW, KA27-KA28, IV9-IV12, IV40-IV56, IV36, IV30-IV32, IV14-IV28, IM, HS1-HS9, CA18-CA27, AB53-AB56, AB44-AB45, and AB37-AB38.
MDS Battery will contact you via email if a surcharge applies to your delivery address. They will explain the additional charges so you can decide whether to proceed with the order or whether you would prefer to cancel it.
If you are returning a parcel to MDS Battery, you are not obliged to use the same courier that delivered your package. We will help you to determine the best courier based on the weight and dimensions of your parcel, as well as where you are sending it from and to. If you are approaching the end of your return period, we can also recommend the best couriers for next day delivery. Not only will we provide you with details on UPS and Royal Mail returns, but we also gather accurate data from all UK carriers, such as Yodel, DX, InPost, DPD, Collect Plus, and Hermes.
Don't forget to check the courier's dangerous goods shipping list before sending. This is especially important when it comes to products such as batteries, as there could be some products that are prohibited by certain couriers.
Tracking Your MDS Battery Order
The way in which you track your MDS Battery order depends on the courier and service that has been used. If your order has been sent via Royal Mail First Class, you will not be able to track it. However, the company promises to look into the status of your order if it has not arrived within ten working days of you receiving a shipment notification email.
If your order has been sent via a Royal Mail trackable service, you can either head to the Royal Mail website to track your order, or you can use the tracking link provided in the shipment notification email. Simply input the 13-digit tracking number you have been provided with to discover the status of your order. If your parcel is overdue for delivery or you cannot track it, you should call 08457 740 740 to speak to someone from the Royal Mail call centre for more information.
If your order has been sent via UPS, you can either head to UPS's site to track your order, or you can use the tracking link provided in the Shipment Notification email. You will have been provided with an 18-digit tracking number, which you should input to receive the delivery status of your parcel. If you cannot track your order or it is overdue for delivery, call 08457 877 877 to reach the UPS call centre to find out more.
When returning a parcel, it is important to get proof of postage and a tracking number so that you can follow your order. Most couriers will provide you with a tracking number, which you can input into their website to follow the status of your order. You will then know when it has arrived at MDS Battery's warehouse and when you are likely to receive a refund. If something happens to your package and it does not arrive, by having proof of postage you are able to follow this up with MDS Battery and receive your refund regardless.