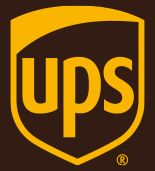 UPS Courier Service
Have you heard of the United Parcel Service? More commonly known as UPS, is the world's largest parcel delivery service. They have a presence in every country around the world. It's easy to use a UPS courier in the UK.
Headquartered in Georgia in the USA, the brown vans delivering UPS parcels are famous sights. Many businesses and individuals choose UPS parcel delivery as their preferred provider. The company is going from strength to strength.
Since it was founded in 1907, the company has become one of the world's leading shipping providers. Do you have a small business with a customer order to fulfil? Perhaps you want to send a gift to a loved one? UPS parcel delivery will have a solution perfect for you.
At Parcel Delivery, we find the best UPS courier service price for you. We compare UPS with a range of other couriers. We'll give you a list of prices to send your parcel, including a UPS courier quote. Looking for a UPS parcel delivery in the UK? Use our simple tool above. We'll do the hard work for you!
How UPS Parcel Collection and UPS Parcel Drop Offs Work
When it comes to delivery services, it doesn't matter whether you're shipping a tiny box or a huge container. There will be a service ideal for your needs. And we'll make sure you get the best UPS courier service price using our handy tool.
UPS parcel delivery service is an established company with a long heritage. However, it's also adapted well to the age of the Internet. There are great online ordering and UPS parcel tracking facilities available. Your UPS parcel delivery in the UK will be streamlined and tech-savvy.
In a nutshell, their delivery providers work as UPS couriers. This means they can come to the door of your business or home to collect your item. They will then take it to a depot where it gets sorted for delivery. It can be delivered quickly by a UPS overnight courier. You can choose to use a UPS parcel drop off point if that's more convenient for your schedule.
UPS parcel collection means you don't even need to leave the house in order to get your parcel from A to B. The first step is to head over to the UPS parcel delivery service website. Submit details about where your parcel will be collected from and where the UPS courier service needs to take it to.
Use a UPS Courier in the UK
To improve your experience you'll be able to choose how often you will need UPS parcel collection and deliveries. If you're someone who ships a few times a month or less, you'll be able to sign in as a guest. However, if you're a regular shipper then it is worth signing up as a member. This means that your information and time can be saved.
The UPS parcels website also has a handy but detailed tool covering the time and cost of sending a package. This will help you plan in advance how much you need to budget for your UPS parcel delivery. It will also give you an estimate as to how long it will take for your package to arrive. Some services, such as a UPS overnight courier, will cost more than others. Plan in advance if possible to save on your UPS courier service price.
Prefer to drop off your item yourself rather than have a UPS courier in the UK come to the door? That's fine as well. UPS operates a series of UPS parcel drop off locations dotted all across the country. By using the UPS online tool, you can find your nearest one. Once your parcel has been collected by a UPS courier in the UK… you'll be able to follow it using the UPS parcel tracking service.
What to Know about UPS Parcels
Organising a UPS parcel collection and delivery? It's worth remembering that there are some banned items which UPS couriers are not able to carry in their vehicles. This is especially important when arranging a UPS parcel delivery in the UK to go abroad. It's wise to make sure you adhere to the stipulations on the banned list. Otherwise, your parcel could end up being delayed or even destroyed.
These include items such as money, perishable goods, firearms and furs. Other banned items include seeds, plants, pornographic materials and tobacco.
Many restricted items tend to be included in parcels as harmless gifts. Sending a present via UPS? It's worth checking in advance with the customer service team to avoid problems down the line. For example, works of art and precious stones are not permitted, and neither are alcoholic beverages.
UPS Parcel Tracking
UPS is one of the world's longest established parcel delivery companies. There are plenty of reasons to trust this major global brand with your delivery needs. UPS parcel delivery in the UK is fast, efficient and affordable.
The company offers attractive UPS courier service prices. UPS parcel collection and delivery won't break the bank. Sending a parcel with one of the world's oldest and most trusted senders needn't be expensive. UPS couriers offer low prices and efficient service. Find out for yourself, get a UPS courier quote above.
You also get a variety of UPS parcel tracking options. Both you and your recipient can follow its progress. Simply use the online tracking tools to locate it as it moves from place to place. This is available 24/7, which is great if you're using a UPS overnight courier.
All you have to do is head over to the UPS parcel tracking page on their UK website. Enter your UPS parcel tracking number to find out where your parcel is. This will also give you an idea of how long it will take to arrive.
There are UPS parcel drop off points dotted all over major towns and cities. So, you can find your local one online in just a few clicks and arrange your UPS parcel drop off today.
UPS Overnight Couriers and Service Times
UPS has long been known for its high standards of customer service. So, you'll always be able to rest assured that your package will be in safe hands when making its journey to you.
UPS is a large organisation operating in all parts of the country. For that reason, shipping times and prices can often differ. This will depend on where you are and where you're planning to send your items.
Depending on the option you go for, you could see your parcel get delivered as early as the next working day if you order before 4.30pm. Next day delivery services will include UPS parcel tracking so you can follow your express parcel delivery on its journey.
Not only that, an overnight delivery of a small package from one end of England to the other could cost only around £10 using the UPS Express Saver option! No matter where you're sending to, the great thing about sending a parcel with UPS is that you can use their handy online tool to find out how much it will cost before you buy.
Find the Best UPS Courier Service Prices
Firstly, add in the details for where and when you want to send your parcel. We need the UPS parcel collection address. We'll also need the addressee's location and the proposed shipment date.
Then, add in details for your package. UPS offers its own range of packaging options, including the UPS Envelope, the UPS Tube and the UPS Pak, and if you plan to use one of these you can stipulate that here.
You also add in here the weight of your package, as well as value-added services such as signature requirements or additional handling. As a responsible corporation committed to action on climate change, you can also choose to pay a little extra to offset the impact your delivery will have on our climate.
Once you've added in all your details, the robots behind the UPS site will calculate an expected cost and delivery timeframe.
UPS Parcel Delivery in the UK
Every UPS courier in the UK is committed to getting your parcel where it needs to be in the fastest possible time. There is a range of available options, but even for a long-distance journey, it's possible to get your parcel where it needs to be as early as the next one or two working days.
When it comes to more remote areas of the country, however, you may find that your parcel will take a little longer to deliver.
Some of the northern areas of Scotland, for example, may take two or three days to deliver to as opposed to the following working day. It's a good idea to check online with the handy UPS tool or get in touch with the customer service team if you're concerned.
If you're out, UPS couriers can try again the following working day and then again on the third working day. They can also leave the parcel at a nearby UPS Access Point.
UPS Parcel Delivery FAQs
Can I get UPS parcel delivery in the UK?
Yes, you can. UPS is best-known as an American company, but UPS parcel collection and deliveries are available worldwide. This includes everywhere in the UK.
How to send a parcel with UPS?
Use our comparison tool above to get the best UPS courier quote. Once you're happy, simply book in a UPS parcel collection, or take your parcel to a UPS parcel drop off point.
Will UPS collect my parcel?
Yes, UPS parcel collection is widely available in the UK. You can book a timeslot that is convenient for the UPS courier to arrive, and they'll take your parcel where it needs to go.